4Patriots are a company that offers a somewhat unique service. They specialize in the provision of items that can be of great use during emergency situations, such as catastrophic weather events or natural disasters.
Events where things that we may take for granted- such as easily accessible food, clean water, and functioning power- may become difficult or even impossible to access.
4Patriots dabbles in all sorts of equipment that will keep you going in a wide range of possible emergencies as well as plain, everyday ones!
From survival food kits to water filtration systems, 4Patriots offers a wide range of products to give you peace of mind and to ensure that you feel prepared for absolutely anything that might come your way.
Let's begin this dive into what this company offers by taking a look at who 4Patriots are as a company.
Who Are 4Patriots?
The world has always been an uncertain place, but in recent times it seems like the modern world gets scarier every day!
If you find yourself wondering how you will be able to protect yourself and the ones that you love more and more frequently as of late, then 4Patriots are exactly the company that you need!
4Patriots offer the essentials to keep you and your family safe during an emergency.
Simply put, they offer a peace of mind that is difficult to come by in our contemporary society.
Established in 2008, 4Patriots has a fair amount of products that can help you establish a backup plan for when the worst happens.
That being said, their products also have everyday use too, so there is no need to wait for the end of the world before you use them!
What Do 4Patriots Offer?
With this in mind, let's take a look at exactly what the company provides.
Survival Food
4Patriots offer various kinds of survival foods that are not only useful in a situation where you may not be able to access food so easily, but they are also delicious!
Who wants to be chowing down on gross space food when the unexpected hits?
These packs are also able to last for up to twenty-five years, so there is no need to fret over perishing food. Here is a quick look at what 4Patriots has in terms of food:
3-Month Survival Food Kit
4-Week Survival Food Kit
1 Year Survival Food Kit
Gold Medallion All-Meat Survival Food Kit
Fruit, Veggie, and Snack Survival Food Kit
Country Griddle Breakfast Kit
Freeze-Dried Chicken
Plant-Based Protein Survival Kit
Heartland's Finest Powdered Milk Kit
Freeze-Dried Berry Super Pack
As you can see, you're not limited with your food options either! There is so much to choose from in terms of different kinds of food- from all vegetable and plant-based to all meat-based- but you can also choose what kind of time period you want the food to cover.
Whether it is a year, a month, or just a couple of days, there is plenty of variety and personal choice when it comes to the 4Patriots Survival Food Kits.
Water Filtration
Water is such a crucial part of our daily lives, but it is often easy to forget to drink enough of it at times.
In an emergency, fresh and clean water is a vital element of survival, no matter the circumstance. 4Patriots has a series of water filtration items that are an incredibly useful tool to have.
Whether you are planning for the worst or just want to make sure that no matter where you go, you will be able to access clean water, these products are a must-have.
Here are some of the water filtration items that 4Patriots currently has to offer:
Patriot Pure Personal Water Filter
Patriot Pure Ultimate Water Filtration System
Off-Grid Clean Water Kit
Patriot Pure Pitcher Filters
Water Brick Storage System
4Patriots Aqua Totes 3 Pack
Survival Tools
4Patriots also have a wide variety of all sorts of tools that are highly versatile in that they would be great for emergencies, but they would also be great, handy accessories to have in everyday life!
Whether you are improving your security or just want to have some extra tools around just in case, 4Patriots has so much variety that you are sure to find something to suit your needs.
Let's take a look at a few of the tools that the company has to offer:
Freedom Flame Arc Lighter
Pure UV Phone Sanitizer and Charger
Flavor Harvest Herb Seed Kit
Blackout Beacon Emergency Light Three Pack
Solar Sentry Security Light
4Patriots Gardening Tool and Storage Set
Patriot Pure UV Sterilizing Wand
4Patriots SoLantern
We weren't kidding when we said that 4Patriots has a wide variety of products for all sorts of situations!
These are just a few of the tools that are available. Whatever situation you find yourself in – or whatever situation you want to be prepared for-you are sure to find something of use with 4Patriots.
One of the major series of products that 4Patriots makes is a line of solar generators and accompanying items such as solar panels, flashlights, and power banks.
We are going to be taking a look at what 4Patriots offers in terms of generators that will keep you juiced up with power for as long as the sun is still shining!
There are two generators that are the most prominent in terms of what 4Patriots has to offer: the Patriot Power Generator 1800 and the Patriot Power Sidekick. Let's begin!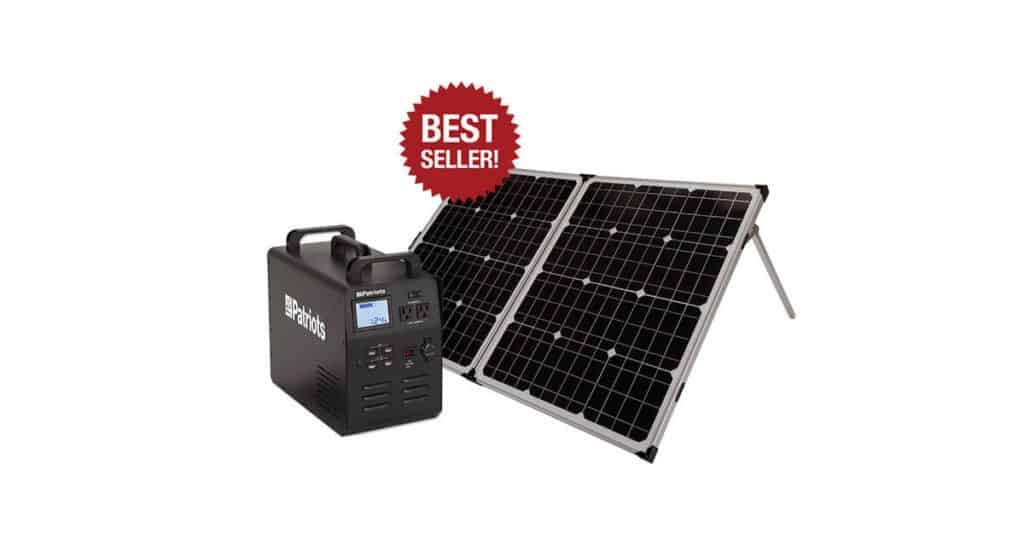 This generator is the behemoth when it comes to the 4Patriots products that are intended to protect from all kinds of emergency situations, from blackouts caused by weather conditions to failing power grids.
Let's take a look at some of the major features of the 1800 Patriot Power Generator.
Battery Power
This generator utilizes advanced engineered battery technology that allows for long-lasting power as well as much faster charging. This is thanks to the powerful lithium iron phosphate battery, which is a battery that is well known for its stability.
It also offers more than 3,000 watts of peak power- translating to a continuous output of 1,800 watts-, which is around 52% more than your standard solar generators.
This allows you to use a huge range of various appliances with the generator as well, making it a lifesaver during emergency situations.
Small appliances- such as a freezer or a refrigerator- should be able to run off of this generator with little to no problems. As well as this, the generator also allows for a fair amount of stored power.
You can store around 768 Wh- or 60 Ah- of stored power with the Patriot Power Generator with each unit having eight outlets, including one twelve VDC extension cable outlet, one solar DC outlet, two AC outlets, and four USB outlets.
Portability
Next, we are going to take a look at the portable nature of the generator. Despite having a well-sized battery with plenty of juice, the Patriot Power Generator can easily be packed up thanks to the portable nature of the design.
This is especially handy in emergency situations where you might need to be able to pack everything away and leave as soon as possible, such as a sudden weather emergency.
The generator weighs around 40 pounds, which might not be that easy to carry as it is approximately the same- or a similar weight- to 5 gallons of water, a three-year-old toddler, or a large bag of pet food.
This might be heavy for some, but not so much for others, so be prepared for that level of weight if you do find yourself needing to move quickly!
Set-Up
When it comes to setting up the Patriot Power Generator, the process is incredibly simple. You only need to follow three steps:
Open up the free solar power that comes with the generator and set it up in the sunlight so that it can start absorbing sunlight to create energy.
Connect the solar panel to the generator.
All you need to do then is plug any devices in that you need to power up with the generator, and you are good to go!
Return Policies
4Patriots also offers risk-free satisfaction guarantees that allow you to get your money back should you be unsatisfied with the generator.
Users will receive a money-back guarantee with the purchase of the generator, which keeps you protected for a year.
Therefore, if you have any issues within that first year, you won't have to pay anything at all.
Customer Service Support
To make sure that you have all the help that you need in regard to the setup and maintenance of the generator, you will also receive free access to a customer support team that offers technical support for the Patriot Power Generator.
A Charitable Purchase
An extra incentive to the Patriot Power Generator is that a portion of the proceeds from purchases goes to a few separate charities that focus on supporting United States war veterans and their families.
These charities include Team Rubicon, Fisher House, Operation Homefront, and A Soldier's Child-Foundation.
4Patriots has managed to raise more than half a million dollars for these charities since the company was set up back in 2008.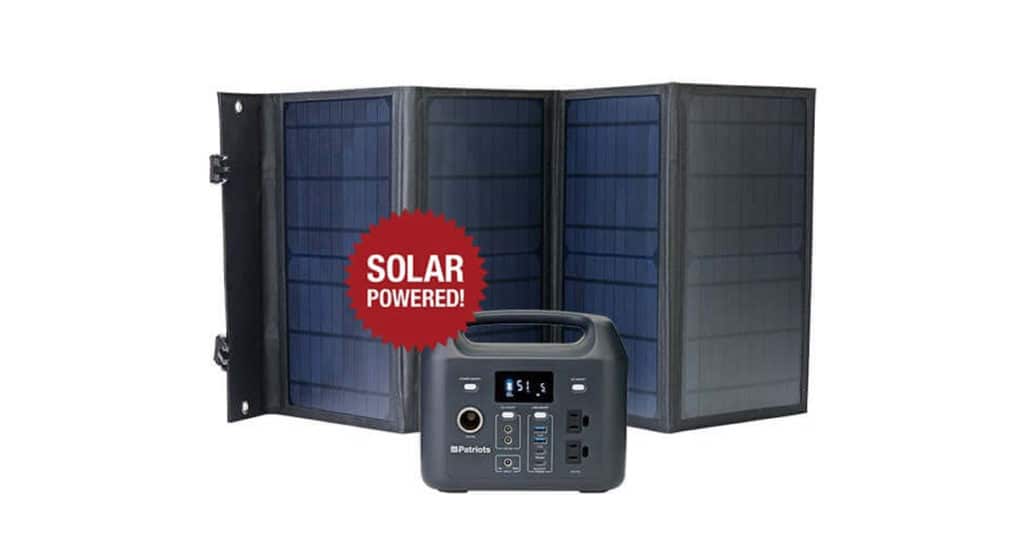 For a smaller option that is still incredibly powerful, the Patriot Power Sidekick is a fantastic option.
This mini solar generator is able to provide a fair amount of power should you have to deal with a blackout.
Its small size makes it even more useful if you need to take it with you if an emergency crops up. Let's take a look at some features of the Sidekick.
Battery Power
With the small size of the sidekick, you would be forgiven for thinking that the battery power isn't substantial. Thankfully, this is far from the case!
The Sidekick has a built-in lithium-ion phosphate battery that allows it to handle up to 300 watts of peak power, with 110 watts of continuous power.
This should last for approximately 2,000 lifecycles, which is pretty good considering how small this little generator is!
There are two ways that you can recharge the Sidekick: either with the free 40-watt solar panel that comes with it or with an AC power cord (which is also included in the pack).
It also has eight different outlets that are as follows:
An automobile cigarette socket
Two 12 V DC Sockets
Two USB Output.
One USB-C Power Outputs
Two Pure Sine Wave AC Outputs
These outlets will allow you to power more than one item at once, such as a cell phone, a laptop, a medical device, a Wi-Fi router, and more!
Portability
This is one of the best and most notable features of the Patriot Power Sidekick, seeing as it is a generator that is specifically intended to be used portably thanks to its compact size.
The Sidekick only weighs 8.4 pounds- which is less than a gallon of milk- making it able to be carried relatively easily or stashed away somewhere that you know it could be needed, such as a car or in an emergency supply area.
It can also be used for everyday excursions thanks to its compact size.
You can easily take it with you if you are going somewhere that you know won't have any power, such as if you plan on going camping, hiking, or even on a fishing trip to charge your phone or listen to music whilst relaxing in nature.
The portable nature of the Sidekick makes it an incredibly handy tool for everyday use as well as emergency use.
Set-Up
The Sidekick comes fully charged, so you can start using it immediately. No set up required! It doesn't need to be assembled, either. Open it up, and it is ready to go straight out of the box.
The Sidekick also has an easy-to-read display that will tell you exactly how much you have left.
Return Policies And Customer Service
Much like the Patriot Power 1800, the Sidekick comes with the same one-year warranty that has a money-back guarantee as well as free access to a customer service hotline whenever it is needed.
Don't forget about that charitable contribution that 4Patriots will put forward thanks to your purchase a well!
Both the Patriot Power 1800 and the Sidekick are great options when it comes to a generator all of your own.
The Sidekick is a smaller option but the 1800 offers a huge amount of power, so once you are sure that you know exactly what you want from a solar generator in terms of size and power capacity, then you are sure to be able to choose from these two fantastic options.
Frequently Asked Question
What Should I Look For When Buying A Generator?
There are several elements to consider when selecting a generator. You will need to know exactly what you are planning to use the generator for before you even start looking for the right one.
Are you planning to use it for household utilities, or for sensitive equipment such as televisions or computers?
Electronics such as that will do better with an inverter generator, which is the kind of generator that is often used for smaller machines.
You'll also need to know the exact wattage and how much power you will need the generator to provide for the items that you plan to use with it.
Some other elements to consider are whether it utilizes gas or solar generator, whether it is going to be for professional or domestic use and whether you are planning to use it outside.
Once you have taken all of these factors into consideration, you should be able to choose a generator that perfectly suits your personal needs!
How Much Power Does A Generator Use?
This will vary from generator to generator but the main thing that you need to look into when seeing how much power a certain generator will produce is the term "watts".
Watts is a measurement of the power output within a generator, so the more watts that it has, the more power you will have. This is important to consider, as a generator with more power will allow you to run more appliances or lights.
The level of watts will also affect the consistency and the quality of how these appliances will work.
If you require a generator that will provide constant, consistent power to a wide range of appliances, then you will need to make sure that your chosen product offers a substantial amount of watts.
As a reference point, a typical home setup would run off of around 5,000 watts worth of power.
How Much Power Does A Solar Generator Produce?
When it comes to solar generators, they are usually designed with less capacity and more portability in mind.
This doesn't mean that their power limit is insignificant, though, as numerous solar generators will come with 1000 watt inverters (though some have more and some have less).
A solar generator normally acts as a supplier of backup power if a power grid goes down- hence why their capacity isn't quite as large- but plenty of solar generators offer a fair amount of power in their supply to allow for the use of various essential devices if you find yourself faced with power failure.