If you ever experienced standing in the dark because of a battery failure, you know exactly what you want to avoid.
However, a good power battery for your off-grid solar system at home or your RV is not only a reliable backup in case of blackouts, but well-constructed batteries can also improve your solar panel performance.
Finding the right battery for your inverter can be a challenge.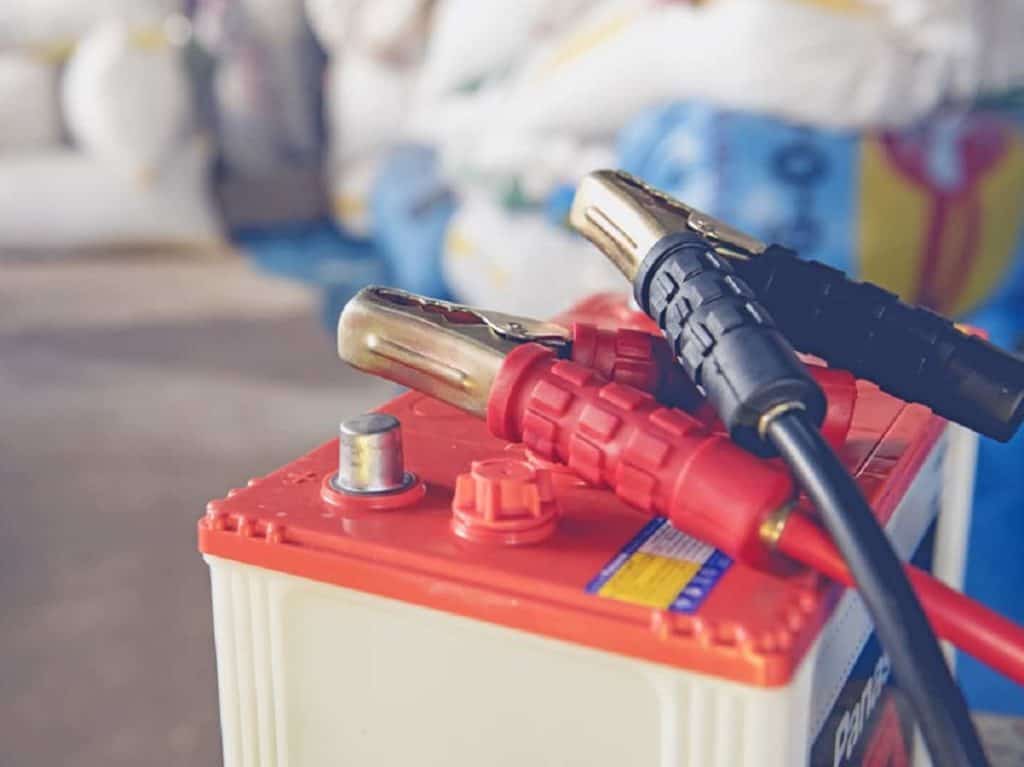 Best Batteries For Inverters
Although there is a range of home energy storage batteries available on the market, you need to find the right type and size that fits your solar inverter.
And then there is also the question of what kind of technology you want.
Types Of Batteries For Inverters
Lithium Batteries
Lithium technology has advanced in recent years and manufacturers are adding more and more smart, modular systems for different energy storage applications.
Modern lithium battery systems can be a big expense, whereas traditional lead-acid batteries are much more budget-friendly.
Acid-Lead Batteries
Acid-lead batteries are the traditional energy storage option for a range of different applications, from off-grid RV to powering your home appliances.
Lead-Acid Batteries
Lead-acid batteries are also used in cars, but if you want to power your microwave, fridge, and other appliances you need a lead-acid battery specifically for use with inverters.
Inverters offer small amounts of power over a long time and only inverter batteries provide AC current which is needed to power your appliances when you are off-grid.
While acid-lead batteries are slowly being replaced by newer lithium battery technology because they are immensely difficult to dispose of, acid-lead batteries are still the most popular batteries for inverter use.
Whether you own an RV or your home is off-grid, the Renogy 12-V deep cycle inverter battery is one of the best acid-lead batteries for inverter use on the market.
It can not only power your coffee machine, television, and other home appliances, but it can even help you restart your RV engine.
The deep cycle AGM battery offers enough power to run your solar panel system.
If you have connected the battery in a series, it also prevents the risk of overcharge, ensuring your power system is safe. This inverter battery doesn't require any maintenance, and it's leakproof.
Pros:
Ideal as power backup or running consumer appliances
Handles and stores solar energy
Doesn't spill or leak
Prevents over-discharge
Cons:
Very heavy, so not easy to carry
The ML100 inverter battery from Mighty Max comes with a heavy-duty calcium-alloy grid that offers great performance over a wide range of temperatures.
This sealed lead acid battery is made to last with high-quality components, including 'Absorbent Glass Mat' (AGM) technology that prevents sulfation.
Combined with a powerful inverter, the battery can provide high currents to run power-hungry devices like freezers or microwaves.
This inverter battery is also much lighter than some other batteries, so it's easily portable.
Pros:
Ideal for cold temperatures
Can be installed also in difficult positions
Durable and long lifespan
Vibration and shock resistant (especially good for use in RVs)
Cons:
No mounting accessories included
Lithium Inverter Batteries
Lithium batteries for solar inverter use are the latest development in the solar system world.
They run more efficiently than acid-lead batteries, and while they are still more expensive, lithium inverter batteries also offer a lot more flexibility on how to use them with your solar units.
One of the best brands for inverter batteries, ExpertPower is known for its high-quality products and excellent performance.
The LiFePO 4,200Ah lithium inverter battery comes with in-built battery management, so that it doesn't overheat, overcharge, or short circuit.
The lightweight design gives you the option to carry it around easily. It's a corrosion-resistant battery for use with a solar inverter.
As robust backup batteries for powercuts go, the ExpertPower LiFePO is a solid choice for whatever solar system you want to connect.
Pros:
Functional battery management system
Resistant to corrosion
Lightweight and portable
Cons:
More expensive than sealed acid batteries
Huawei LUNA2000
Huawei is a well-known brand for communication technology but it has slowly become one of the leading innovators for solar energy storage in our homes.
This 5kWh modular residential battery system has a great set of features.
It provides a continuous power output of 2.5kW, with a 3.5kW maximum peak for the solar module to run with Huawei's efficient, lightweight hybrid solar inverter.
The LUNA2000 battery modules are made with lithium iron phosphate (LFP) cells. LFP is one of the safest and most stable battery chemistries.
This lithium battery for inverter use can be stacked three high to maximize the power output to 15kWh. However, you can also expand the system with a second stack to get you up to 30kWh.
Each Huawei module operates at 350V to 430V runs in parallel, which is different from most other high-voltage battery systems that are connected in series for the maximum system voltage.
The parallel operation improves the overall efficiency as the current is reduced, leading to less cable loss.
The LUNA2000 system also comes with an AI that can detect short circuits or damage, and it also features a thermal management system that can pre-heat cells in very low temperatures.
Pros:
Short circuit diagnosis to prevent fires
Internal heating system for improved performance in cold climates
Module-level battery optimizers means you can combine new and old batteries in one system
Cons:
Much more expensive than acid-lead batteries
Tesla is not just well known for their cars, but the first Tesla Powerwall is also understood to be the battery that started the home energy storage revolution.
The Tesla Powerwall 2 however was the inverter battery that really brought power storage into mainstream homes. This much forward-thinking and scientific development comes at a cost.
At still just over $10,000, the Powerwall 2 is much more expensive than most batteries for inverters. For this, you get a large storage capacity of 13.5kWh.
Powerwall 2 is an AC battery system, which means it contains an integrated inverter charger. It also is retrofitted to any home with an already existing solar installation.
You will still need a solar inverter though to make this battery work with a solar system, and if you want to enable backup power in case of a blackout, you need to add the additional Tesla gateway box, which adds around $2,000 to the overall costs.
However, this will give you a lot more monitoring and smart features. Tesla designed the Powerwall 2 with Panasonic's high-quality lithium nickel-manganese-cobalt (NMC) cells.
The power storage unit also features a smart liquid thermal cooling system, which makes it one of the most advanced stationary battery systems available.
This feature allows for a much wider operating temperature, improving power output at high ambient temperatures and extremely cool climates. You can also safely install it outside, as the Powerwall 2 has a very high weather rating.
If you need to set up a parallel system, the Powerwall 2 inverter battery can also be run in parallel with up to 9 units, ideal for larger homes and businesses.
Pros:
Latest lithium battery technology
Large energy storage capacity
Can be installed outside
Cons:
Some optimizers required for solar setup, which adds to the unit price
Buying Guide For Batteries For Inverters
When it comes to choosing the right battery for your solar inverter, you will need to carefully consider what battery type you need, so let's take a look at what type of inverter batteries are available on the market.
Deep Cycle Batteries
Deep-cycle batteries are the powerhouses of the battery world. They have thicker internal plates that offer power for much longer periods of time.
Deep-cycle batteries can also be discharged and recharged frequently. This consistency of a deep-cycle battery makes it for long-term use in your home or RV.
Hybrid batteries
Hybrid batteries can be used for multiple different purposes, such as starting a car or running your fan for a few hours.
While hybrid batteries don't last as long as deep-cycle batteries, they are usually much cheaper for RV setups.
Lead Acid Battery Or Lithium Battery?
Inverter batteries don't just come with different uses, but also the chemistry and technology inside the battery van vary widely.
The most commonly used batteries for solar inverters are lead-acid and lithium batteries.
Lead Acid Batteries
Essentially, lead-acid batteries contain four different parts that are made of lead. This makes them much heavier than some other battery types.
As these batteries contain acid you need to ensure that they are not leaking, and their design means you should not regularly discharge them below 50% of the total capacity.
This will not hurt the battery in the short term, but if you consistently drain the battery below half, it's likely that it won't last as long. Basically, the less you discharge it, the longer it will last.
Lead-acid batteries are categorized into several types, all using similar chemistry:
Flooded lead acid batteries (FLA)
These long-life inverter batteries are usually the most budget-friendly battery type. However, they also need more maintenance.
Flooded batteries use a standard liquid electrode that requires to stay topped off for the best operation. When you buy a flooded lead-acid battery you can fill the casing can inside with distilled water.
You then need to regularly check the liquid level and fill it back up.
As flooded lead-acid batteries contain a liquid it's important that they are stored upright to keep them from leaking the acid electrode solution.
These batteries also have valves for off-gassing as they release explosive and toxic gases. This means they need to be properly ventilated.
Absorbed Glass Matt batteries (AGM)
Instead of a liquid, these batteries use a glass matt to separate the plates inside the battery. AGM batteries generally hold the charge very well, and they are also a lot less sensitive to overcharging.
Unlike flooded lead-acid batteries, AGMs don't release any gases as they have sealed valves. This holds the gas inside.
Originally developed for the military, AGM inverter batteries can handle a large range of temperatures making them especially robust.
However, they don't last as long as other batteries and can be twice the cost of FLA batteries. They also charge and discharge more quickly, which makes them more suitable for quick discharge applications.
Because AGM batteries don't contain a liquid, they are not limited to where and how you can store them and operate them. They also need a lot less maintenance.
What To Look Out For When Buying A Battery For Your Inverter?
When you have decided on a battery type, you are ready to compare some features of inverter batteries to ensure you get the best setup for your solar inverter system.
Battery Capacity
How much power your battery can hold should be the priority when you look at inverter batteries. The battery capacity determines the exact power supply that it can deliver, and therefore whether it can run all your appliances or not.
Battery capacity is measured in kWh (kilowatt-hours). This is the exact amount of energy a battery can hold.
As a general rule of thumb, the usable capacity of a battery is limited to 90%, so to increase its lifespan and prevent any battery shutdowns.
If you experience long hours of a power outage or you want to set up an off-grid system, it's best to go for inverter batteries with higher capacity.
Inverter Battery Maintenance
All inverter batteries do need regular and proper maintenance to ensure you get the most out of them for as long as you can.
However, you don't want to spend a lot of time maintaining your battery, so we would recommend going with an inverter battery that takes as little maintenance as possible.
Battery Life
Home energy storage batteries actually have only been available for a few years now as battery innovations continually evolve.
The life of an inverter battery is generally determined by the number of discharge and charge cycles. Over time, all batteries lose up to 40% of their original capacity.
Battery degradation depends on a number of factors, including how much you discharge it and temperature.
The Australian company ITP Renewables has conducted battery performance tests since 2016, and they found that most batteries last between 3,000 and 4,000 cycles or 8 to 15 years.
Inverter Battery Warranty
This is a criterion often neglected when shortlisting inverter batteries, but in some situations, you will be glad to have a longer warranty, for example when the battery doesn't meet your expectations, or it dies prematurely.
Some batteries for inverter use get damaged very easily, and then you don't want to see your money wasted for expensive repairs or a replacement.
That's why try to pick an inverter battery that comes with a warranty of 3 years or above.
Other Important Factors To Consider
It's a great idea to check if your inverter battery also comes with an onsite warranty, and if there is a support or customer service number you could ring in case you need help.
Another factor to consider for your inverter battery is whether it has been on the market for a while, and also check reviews. This will give you an indication of what's good (and not so good) with this battery.
One final element to consider when buying a battery for an inverter is how much space you have available.
Do you require a relatively compact design, or could you position it anyway? Do you have enough space to position it upright (as required with some acid-lead batteries)?
Frequently Asked Inverter Battery Questions
What Type Of Battery Is Best For Inverter?
The best battery type for inverters is tubular batteries. They are the most popular and efficient inverter batteries.
The solid tubular plates in these batteries are designed for continuous power supply in the event of long power cuts.
How Long Will A 12V Battery Last With An Inverter?
A 12 volt 50Ah lithium iron phosphate (LiFP04) battery with a regular depth of discharge (DoD) of 80% will run a fully-loaded 1500 watt inverter for 13 minutes.
The calculation incorporates typical pure sine wave inverter efficiency of 95%.20 Jul 2021
Can I Use A Car Battery With An Inverter?
Yes, you can charge a car battery using an inverter. Most car batteries can supply enough power for up to 60 minutes before they need a recharge.
You can then recharge the car battery by either turning on the engine, using a generator, or attaching it to an AC charger.
Do Inverters Drain Battery?
Unless your car engine or solar system is running, inverters can also drain your battery quickly.
In your car, you shouldn't keep small devices plugged into your inverter for more than an hour without charging the battery or running the car.
An extended power drain could result in a flat battery. Alternatively, you can also hook up a larger power output inverter directly to your vehicle's battery.