Generators come in many shapes and sizes. Some are powerful beasts, powering all appliances, while others can only power a few essential items in the house. Will a 20KW generator be able to run your house? The question is will it be able to run your whole house, or only partially?
A 20KW generator can run most essential items like central air-con, lighting, heating, refrigerators, sump pumps, and a host of other appliances. Your home's power requirement will determine if a 20KW generator can run your whole house; however, it can comfortably run a house of 2000 square feet.
Here are some of the key points that I'll cover, plus more you'll need to know:
Can a 20KW generator run my house?
What is starting watts?
What is running watts?
How to calculate your home's power requirements
What appliances can a 20KW generator run?
Best 20KW generator
A 20KW generator should be able to fully power a small house (2,000 square feet.) When it comes to bigger homes with higher power requirements, if not able to provide full power, a 20KW generator will still provide enough power to power the absolute essential appliances and many other smaller ones, ensuring that any power outage is not a fight for survival.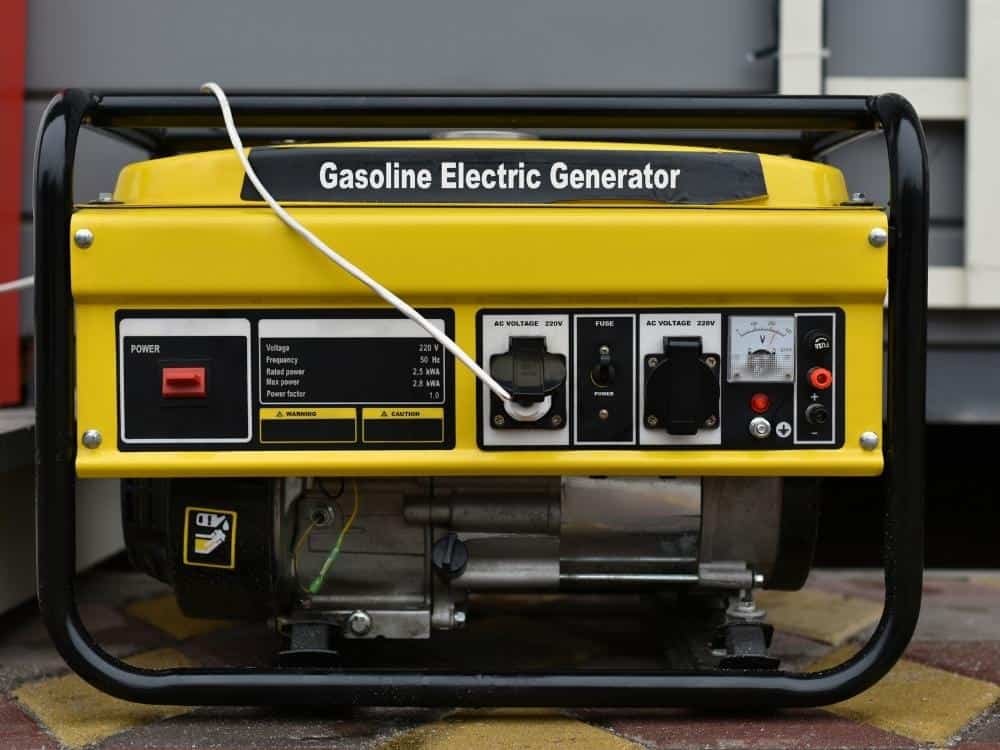 Will A 20KW Generator Run My House?
A 20KW generator has a wattage output of close to 20,000 Watts, which will comfortably run a 2,000 square feet house. Wattage refers to the generator's power output.
All the electrical appliances in your house need watts to run or function; these watts are referred to as starting and running watts.
A watt is a unit of measurement for power used to quantify the rate of energy that is transferred. The higher this number, the more power/energy needs to be transferred. Some bigger appliances, like air conditioners or refrigerators, will display wattage on their label.
On smaller appliances, this might not be the case; typically, they will have a volts and amps rating. To calculate the watts, you have to take the amps multiplied by the volts, and the answer is the watts rating.
Knowing if your 20KW generator will run your house completely or partially depends on the required watts to start and run your designated appliances. Let us discuss the difference between starting and running watts.
What Is Starting Watts?
When we start looking at larger appliances, we encounter starting watts, also known as surge watts. Starting watts is the amount of power (electrical surge) required to start or turn on the motors of the bigger appliances, like:
Air Conditioners
Dishwasher
Refrigerators
Electric Water Heaters
Power Tools
Washing Machines
Garage Door Opener
Clothes Dryer
Microwave
Electric Kettle
Power Shower
For these machines' motors to startup, it will require a short/brief (3-5 seconds) boost of power to kickstart their "engines." The starting wattage is typically more than that of the running wattage of these appliances.
When the starting wattage has done its job, it will slowly lower to the appliance's running wattage.
Running numerous applications that exceed the running watts but are still within the starting watts limit can overload the system.
What Is Running Watts?
Running watts, also known as rated watts, are required to run an appliance continuously. Most people are aware of the running watts of an appliance, not necessarily the starting watts. Most generator manufacturers refer to startup watts when indicating the power of their generator.
Many generator manufacturers use startup watts as the power indicator when releasing a generator on the market. The peak starting watts are what you should look for in the specs of the generator you want.
While you may expect a 7,000W generator to power 7,000W appliances, this is not always the case.
How To Work Out Your Home's Wattage Requirement
So, you want to know if a 20KW generator will power your house? I mean, you have 20,000 kilowatts at your disposal, so the answer is yes it will.
But how much of your house will you be able to power? All of the appliances, or only some essential ones?
To get a clear answer, you will need to work out your home's power requirements. How do you do this?
Ask Professional Electrician To Do It
If you want the most accurate estimation of how much power will be required for your home, get a qualified electrician to do the math for you.
Point out the appliances you want to power during a blackout, and see if a 20KW generator will do the trick.
Use An Online Generator Calculator
Using available online calculators can give you a very good idea of whether a 20KW generator will produce enough power for your house.
When getting the results of these online calculators, you are equipped with a valuable guesstimate of your power requirements; here are some examples of these calculators:
Some of the generator calculators consider the size of your home in square feet and work out an average power requirement for homes of this size.
Others prompt you to physically tick the appliances you want to power and work from that average wattage total.
Another calculation method when working with a square feet equation is the following metric:
Essential Power: 3-5 watts per square foot.
Full Power: 6-14 watts per square foot.
Here are some examples if you use a Generator Estimate:
| | | |
| --- | --- | --- |
| Sq. Feet Of House | Essential Power Only | Fully Powered |
| 1000 sq. Ft. | 10-14 KW | 14-18 KW |
| 1500 sq. Ft. | 14-18 KW | 18-22 KW |
| 2000 sq. Ft. | 18-22 KW | 22-24 KW |
| 2500 sq. Ft. | 18-22 KW | 22-24 KW |
| 3000 sq. Ft. | 24-25 KW | 25-27 KW |
| 3500 sq. Ft. | 27-30 KW | 30-32 KW |
| 4000 sq. Ft. | 30-32 KW | 32-36 KW |
| 4500 sq. Ft. | 32-36 KW | 36-38 KW |
| 5000 Sq. Ft | 36-38 KW | 38-45 KW |
| 5500 sq. Ft. + | 45-60 KW | 60-80 KW |
Size of home and power for essential and full needs
By the above example, you would have concluded that if you owned a 1500 square feet house, you could fully power your whole house, give or take a few unnecessary appliances.
A 20KW generator would possibly comfortably power most of your essential appliances, if not all if you stay in a house of 2000 square feet.
The bigger your house, the more power will be required from a generator. Living in a 3,000 square feet home?
A 20KW generator can power some essential appliances but comes nowhere near the power required to power such a large house fully.
Work Out Your Power Requirement Yourself
By using this method, it should give you a more accurate estimate. It involves some counting, so get the calculator out.
Step 1
Make an all-inclusive list of all the appliances you would like to function when a power outage occurs.
Step 2
All appliances have either starting wattage or running wattage. Most appliances will have wattage on the label or in the user's manual. If you find these totals, use the following wattage usage chart to get the task done.
Make a column for the starting watts and the applicable running watts. Total both columns when satisfied that you have all the appliances listed. Now take the appliance with the largest starting watts total, and add it to the running watts column.
This figure is known as the minimum starting watts requirement. This figure will be the minimum watts requirement for your home, commonly referred to as the generator's peak load.
A popular recommendation by industry experts is not to run your generator at its peak load all the time.
A good idea is always to have some extra power as a backup not to damage your generator in the long run. For example, if your power requirements are 22KW, then a 25KW generator should be the right choice for you.
What Appliances Can A 20KW Generator Run?
When generators are discussed, you will often hear people refer to essential power and full power. Essential power refers to powering only essential items when the power grid fails, whereas full power refers to your whole house being powered as if there is no power outage.
A generator capable of producing 20KW of power will comfortably run most essential appliances – lighting, heating, refrigerators – and a host of smaller additional appliances.
Let us look at some examples of what a 20KW generator can run at once:
| | | |
| --- | --- | --- |
| Appliances | Starting Watts | Running Watts |
| Central Aircon 10000 BTU | 4500 | 1500 |
| Sump Pump | 2150 | 1050 |
| Refrigerator/Freezer | 2200 | 700 |
| Garage Door Opener | 2350 | 875 |
| Electric Fan Heater | 1000 | 2000 |
| Microwave | 0 | 1000 |
| Laptop | 0 | 50 |
| Internet Router | 5 | 15 |
| Television 49" LED | 0 | 85 |
| PlayStation 4 | 5 | 85 |
| Light Bulb LED | 0 | 9 |
| Security System | 0 | 500 |
| Washing Machine | 2150 | 1150 |
| Electric Kettle | 3000 | 1200 |
| Electric Oven | 0 | 2150 |
| Electric Stove 8-Element | 0 | 2100 |
| Total: | 17360 | 14463 |
| Add Item With Highest Starting Watts To Total Running Watts | 4500 | 14463 |
| Total: | N/A | 18969 |
Home appliance – starting power watts and running watts
The example above shows some of the appliances to run comfortably with a 20KW generator. As you can see, it's not a typical full house list of appliances, rather some which many may deem essential.
Remember that by turning some appliances off, you can add others to the equation, just as long as the power requirement stays below 20KW.
A 20KW generator is a popular choice, with over 70% of generator installations being an air-cooled 20KW model. If your home is one of 2500 square feet or less, has gas heat and hot water, the generator will comfortably power many of your home's amenities.
When you own a bigger house, the chances are that you will require a bigger central aircon, for example, so in such a case, the running wattage may increase to 11400 starting watts and 3800 running watts.
Some essential appliances increase in wattage requirements in bigger homes, so be wary of that before just going out and buying a 20W generator.
In the case of bigger homes with greater power requirements, 20KW air-cooled generators are an excellent choice when you need a partial house powerful generator to power only essential circuits.
Best 20KW Generator
If you are happy investing in a 20KW generator, comfortable with its power output, then we need to look for the best options on the market today.
Generac is undoubtedly one of the leaders in standby home generators, producing quality products with a host of innovative features. The Generac Guardian Series uses G-Force Engines with the following features:
Automatic Compression Release (ACR): Improves the engine's ability to start and reduces the drain on the battery.
Engine Starter: The starter is designed for improved reliability and durability and is rated for 10,000 starts.
Pressure Lubrication: The 426cc engine is the only one in its class with pressure lubrication, ensuring that oil is immediately present when the engine starts, allowing the engine to take on load quickly.
Heat Management: Designed to run cooler, increased surface area, for maximum heat rejection and extended run times.
Thermal Safety Switch: The switch shuts the engine down, sending an alarm if the engine's temperature is not optimal thereby eliminating premature engine failure due to excess heat.
Cold Smart Start: Smart technology monitors ambient temperature that allows the engine to warm up properly before taking the load in cold conditions, ultimately reducing the wear on the engine.
Full Flow Oil Filter: The 426cc is the only engine in its class that has oil filtration, removing debris from the oil, improving the overall durability of the engine and life expectancy.
Low Oil Pressure Sensor: The sensor will shut down the engine to prevent damage before it happens.
Here are some other awesome features that are incorporated in this generator:
True Power Technology
Evolution Controller
Mobile Link Remote Monitoring
Quiet Test Self-Test Mode
RhinoCoat
Sale
Generac 7043 22kW Air Cooled Guardian Series Home Standby Generator with 200-Amp...
Remote Monitoring Anywhere: With the Mobile Link Wi-Fi connectivity, effortlessly keep tabs on generator performance from anywhere. Stay updated...
Whole House Protection: Enjoy comprehensive coverage with Generac's 200-amp NEMA 3R smart switch, designed for outdoor use with an aluminum...
Long-Term Assurance: Count on lasting performance and reliability with our 5-Year Limited Warranty. This assurance provides you with the...
References: