Predator generators are well-known for producing high-performance, low-cost generators that function brilliantly in various environments. The larger types are popular with tradespeople and for whole-house backup power, while contractors widely use the smaller models.
Inverter generators are now available in the Predator series, suitable for camping and other outdoor activities. Modern inverter generators are another choice, as they deliver ultra-quiet power for various applications.
In this article, we'll go over all you need to know about Predator generators and how to choose the ideal one for your purposes.
Specs
9000 max watts
8750 Running Watts
1x 12V DC GFCI outlet
1x 240V 30A twist-lock outlet (4-prong)
4x 120V 20A outlets (3-prong)
1x 120V 20A twist-lock outlet (3-prong)
Harbor Freight's most powerful and largest generator is the Predator 9000. With 9000 peak watts and 8750 continuous watts, it can power a whole house for several days during a power outage.
There's an electric start option (though you will need a battery to power it) and a pull-start option. The low oil indicator is useful for letting you know when it's time to top it off, and there's also a built-in low oil shutdown. You can either power everything using the 7x outlets included in or get an electrician to wire it up as a backup properly.
This machine has a lot of power, making it an excellent backup generator, but it can also be used for various other tasks that require a lot of power.
This machine is very big and heavy, which can make transportation an issue, though for an extra fee you can buy the wheel kit to make moving it easier.
No products found.
Pros
Super powerful – this generator can power your whole home for weeks
Multi-purpose – Can be used in a variety of situations, from home power, RV/camping, working on job sites, etc
Cons
Very heavy – weighing over 200lbs, this generator will require much effort to move. The wheel-kit helps, but this is sold separately
Specs
3500 max watts
3000 running watts
2 – 120VAC grounded outlets, 1- 120VAC Twistlock Outlet, 1 – DC-12v Two Pin Outlet
57dB
Digital LCD Screen with low oil, overload, and output light indicators
The Predator 3500 Inverter Generator has many functions and power so that it can be used in almost any situation. It can run for up to 11 hours at 50% draw with just a 2.5-gallon gas tank thanks to inverter technology.
You won't be able to power it too much if you use it as an emergency backup, but at least you'll be alright for a while. This generator shines in terms of ultra-quiet operation and lengthy runtime. This makes it excellent for food sellers and camping, RVing, and tailgating activities.
It's also ideal for job sites, thanks to the built-in casters if you're not hauling a lot of heavy equipment. It also sports a digital LCD panel and an electric start. Perhaps the only issue with this generator is that there are just two VAC outlets. However, depending on what you want to use this generator, they may not be an issue.
Overall, this is a terrific machine, and if you don't receive enough power, you can connect it to a second generator in parallel to double your output.
No products found.
Pros
Very quiet – making only 57dB of noise, this is one of the quietest generators you can buy
Supports parallel hook-up – if this generator is not providing you with enough power, you can add a second generator to give it a boost.
Cons
Only 4 outlets – This may not be enough to run all of your machinery, but adding a second generator can help with this issue.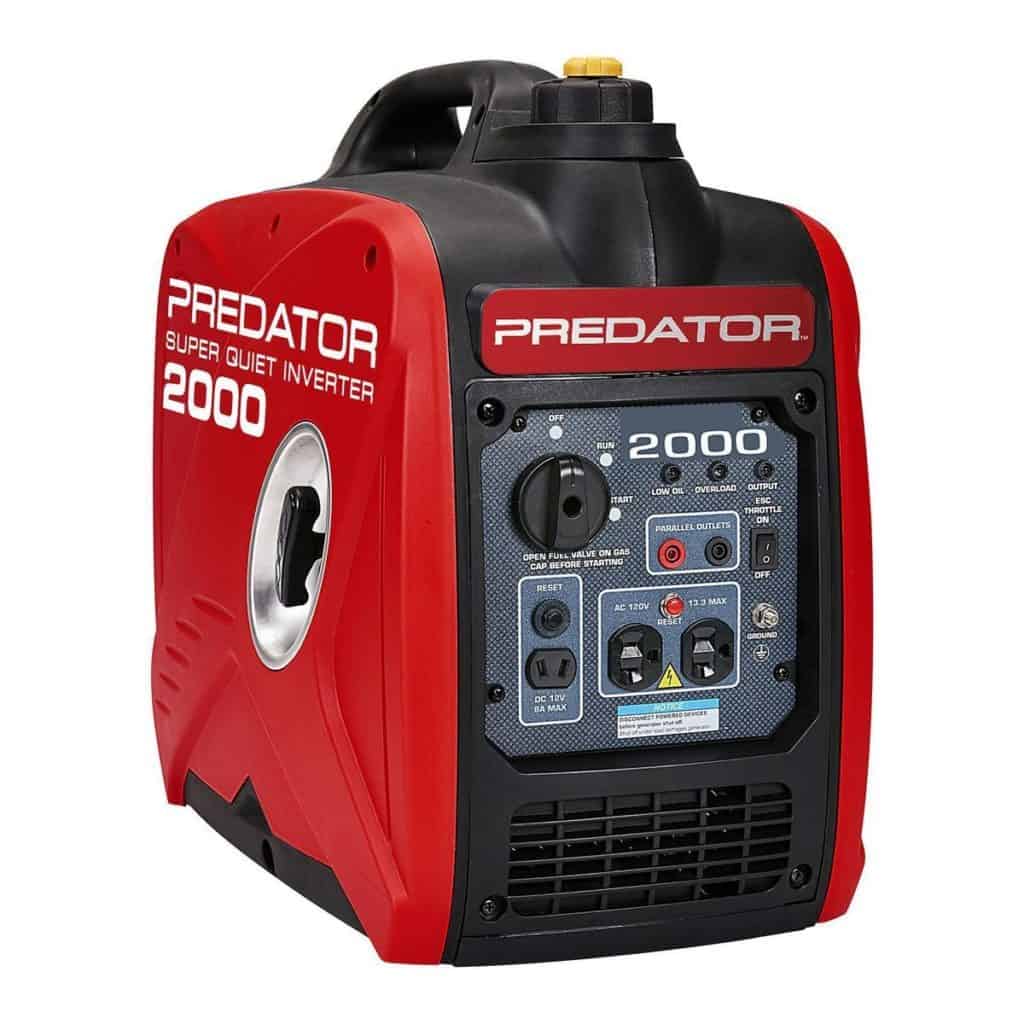 Specs
2000 max watts
1600 running watts
79.7cc air-cooled OHV gas engine
3 outlets
This is the smallest and lightest of all of the predator generators. It has been designed for use when camping, RVing, or even boating. Apart from that, though, this generator has very few uses. It is far too small and weak to be used to power the home as it can only support a few electronics at a time.
Still, if you want an added power boost, you can use the parallel hook-up feature and attach another generator to this one. This will be the best option if you just want something small to take with you on the weekend out camping.
A-iPower Portable Inverter Generator, 2000W Ultra-Quiet RV Ready, EPA Compliant,…
Produces 2,000 starting watts with 1,600 running watts of clean and safe power for sensitive electronics such as phones, televisions, laptops,…
Complete with A-iPower's "Low idle" technology for an extended run time of 4 hours at 100% load and 7 hours at 50% load
Equipped with a low oil alert light and low oil automatic shutdown, helping keep your generator performing year after year
Pros
East to transport – weighing just 57lbs, this generator is easy to carry around.
Super quiet – At only 57dB, this generator is one of the quietest
Cons
Only 3 outlets – the smaller the generator, the fewer the outlets. If 3 is insufficient for your needs, you could add another generator using the parallel hook-up feature.
Specs
4000 max watts
3200 running watts
4 outlets
Gasoline-powered
A 4000-watt generator is one of the most common options as many tools are used on job sites, such as drills and saws run on 4000 watts. A 4000-watt generator can also power most RV equipment, including the air conditioner, refrigerator, and lighting.
You can even use one to power some of your most vital appliances in the event of a power loss or emergency, but you have to be careful not to run everything at once as the 4000 cannot support this.
The Predator 4000 has a 212cc 6.5 HP air-cooled OHV engine that produces 4000 watts of peak power and 3200 watts of operational power. On the generator, there are standard power outlets. There are two 120V Duplex outlets, one 240V twist-lock outlet, and one 12V DC outlet.
The generator's fuel consumption is reasonable at medium loads. Depending on the current load, a full tank should provide up to 10 hours of total runtime. It's worth noting that if you run the machine at full capacity all of the time, the time will be halved.
In general, the Predator 4000 is a very convenient portable generator. It's a simple, no-nonsense device that gets the job done well. It's also a lot cheaper than some of its main competitors, making it a very popular choice of generator.
Pros
10hr run time – very useful in emergencies
Multi-use – can be used on job sites, home power, and camping
Cons
Power issue – compared to other models, this one is not as powerful and will not be able to run everything in your home at one time.
Best Selling Predator Generators
Bestseller No. 1
10 Feet Gas Fuel Line Tubing Hose Clamps for Kawasaki Kohler Briggs & Stratton…
WORKS ON MOST GENERATOR THAT HAVE 3/16″ GAS LINE – Works good on your honda Sportsman generator fuel line. this size line also would work on your…
GREAT FUEL LINE FOR SMALL ENGINES – For gas, diesel etc. fuel hose lines, vapor emission lines and vacuum smog control. Please note it's a…
LAWNMOWERS / RIDING MOWER FUEL LINE – For use in mowers tractors snow blowers dirt bikes pit bikes tao tao and just about all small engines….
Bestseller No. 3
Honda 662220 EU2200i 2200 Watt Portable Inverter Generator
This popular model can operate a wide variety of appliances, making it perfect for portable use at home, camping, on the job site, or much more….
So quiet, your neighbors will thank you. The EU2200i operates at 48 to 57 dBA, which is less noise than a normal conversation. This makes it…
Add a second EU2200i for additional power. Two identical models can be paralleled with an optional cable or cord for up to 4400 watts of power,…
Predator Generators No Longer Available
Predator 8750 (no longer available)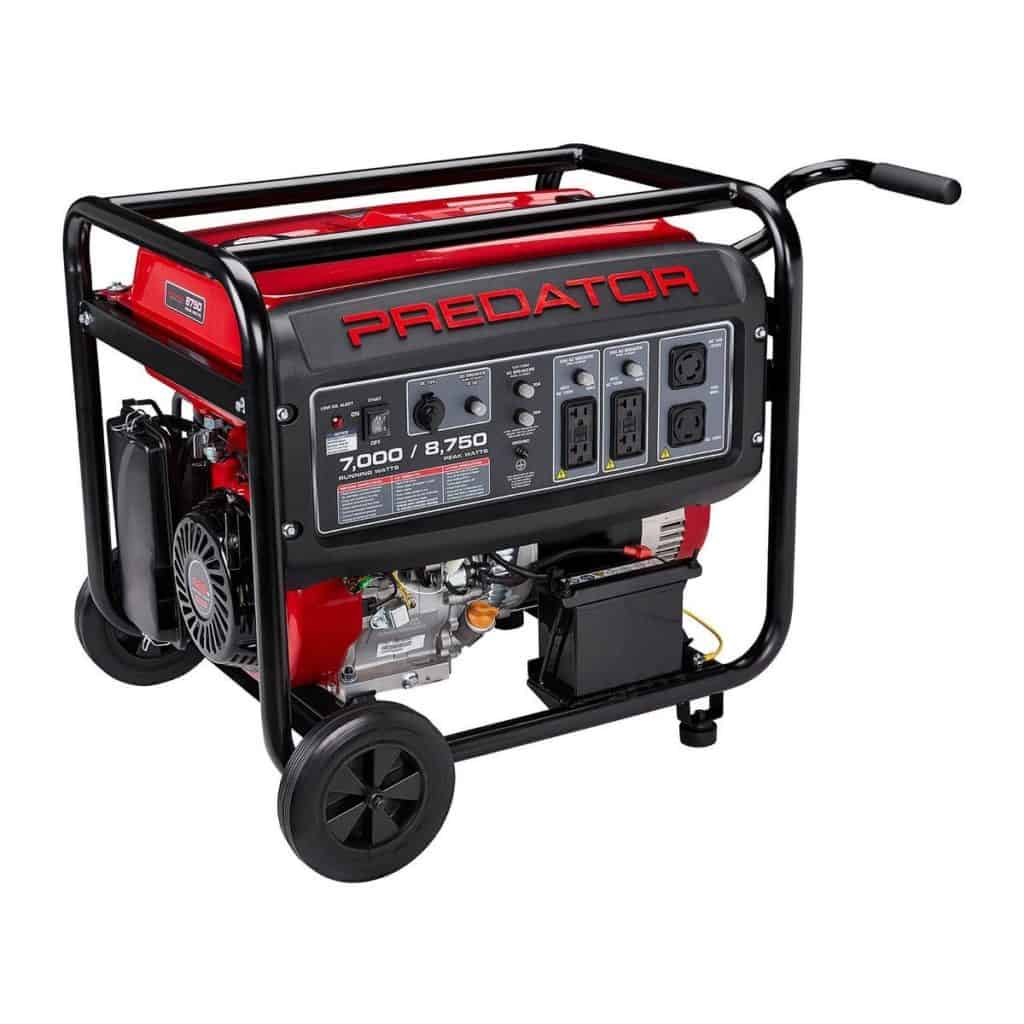 Specs
8750 max watts
7200 running watts
Electric start
Gasoline-powered
This generator is powered by a 420cc 13 HP air-cooled OHV engine. The gasoline tank has a total capacity of 6.6 gallons. The device comes with an electronic start, which is far more convenient than the typical manual start. You may always rely on the recoil start if the electric start fails.
The 8750 has a total power output of 8750 starting watts and 7200 operating watts. Depending on your current usage, you should get about 10-12 hours of continuous operating at 1/2 load.
Keep in mind that if you operate the generator at full power, you'll waste more gasoline and will not be able to run it for as long. This size of generator is prone to being exceedingly loud. At 1/2 load, the 8740 produces 76 dB of noise.
Though this is noticeably loud, it wouldn't be a major concern on construction sites or in an emergency when the power has gone out, and probably all your neighbors will run their generators too. However, this is still a quite loud generator, and we wouldn't recommend it to anyone looking to reduce engine noise.
Overall, this is a fantastic product to consider if you require a huge generator to provide you with a large amount of energy for various applications.
Pros
Powerful – this generator is slightly less powerful than the 9000 but is noticeably smaller. It can power your home or construction sites for weeks depending on power usage
Comes with all the outlets you need – this generator has 5 outlets built-in.
Cons
Loud – this is not a quiet machine, so it is best not to use it around your home for a long time unless it is an emergency or you may get complaints.
Predator 6500 (no longer available)
Specs
6500 max watts
5500 Running Watts
1x 240V 30A twist-lock outlet (4-prong)
4x 120V 20A outlets (3-prong)
When you compare a few different models, you'll notice that the Predator 6500 and 8750 are nearly identical. They are essentially the same unit in terms of engine size, fuel tank, and nearly everything else.
The only difference is that the 8570 has an additional 3-prong twist-lock outlet and 2250 peak and 1500 operational watts, while the 6500 does not. If you don't need or want the extra power that the 8750 provides and can get by with only a few appliances running in an emergency, this is a cost-effective alternative.
Plus, depending on your power consumption, you can get a longer runtime from a single tank if you utilize the same sized gas tank with a lower-output engine.
This is a great tool to have on hand in an emergency, on the job site, for fun, and at home. And at a lower price, what's not to love?
Pros
Affordable but powerful – being nearly as powerful as the 8750, this generator makes a great alternative at a lower cost
Electric start – makes starting up this generator very easy
Cons
Heavy – like a lot of these generators, this one is very heavy, and the wheel-kit for it is sold separately